Description
Specification
Frequently asked questions (FAQ)
Description
Guy Hook
The guy hook provides a systematic and reasonable means of securing guys to poles and is used to break off guy wires or fiberglass guy strain insulators.
The cast ductile guy-hook attachment for deadening guy wire, with a minimum tensile strength of about 10,000 lbs.
Preferably the installation of a guy hook should be made under the head of the machine bolt as premature bolt failure can be caused by bending stress on bold threads.
Ear design to accept any type of guy loop or clamping device bolt with generous thimble diameter while channel back to fit any pole diameter.
Made up of hot-dip galvanized known as ram heads or bear claws to meet the Specification of ATSM A153 which is designed for use on ground surfaces, whose 45 degrees ultimate tensile strength of 21,000 lbs.
Quan Pham Industry is an ISO-certified manufacturer, supplier, and exporter of Guy Hook based in Vietnam.
Features:
Helpful in intercepting wire at any angle
Greater protection to wood fibres
Two spurs to resist pole splitting
Good for round or flat surfaces
Backside cheats for wood pole installation
Hot-dip galvanized finished
Integral lad spur
Cast-ductile iron guy-hook attachment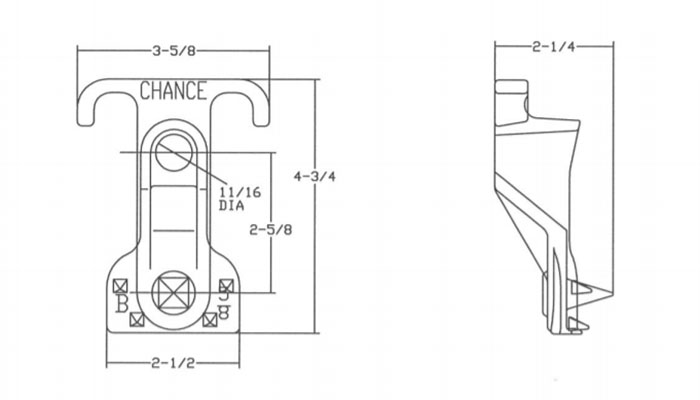 Part No.
Type
Width Across Hooks
Base Width
Overall Length
Mounting Hole Dia.
Thickness
Lower Hole Dia.
A
B
C
D
E
F
D135N
1
3.63"
2.50M
4.75"
0.69"
1.62″
0.56"
D135ILS
2
3.63"
2.50*
4.75"
0.69"
2.25″
Integral Lag Spur
D136N
1
3.63"
2.5W
4.87″
0.81"
1.73"
0.56"
D136ILS
2
3.63"
2.5″
4.87"
0.81"
2.25"
Integral Lag Spur
Frequently asked questions (FAQ)
What is a guy hook?
The main objective of a guy hook is to provide a reasonable and systematic way of fastening guys to poles and put an end to guy wires.
What is the application of a guy hook?
To prevent the guy strand slipping on the pole, the dead-end of the guy hook attaches over the hook while the guy hook attaches to the machine with the bolt, the center mounting hole and a mounting hole in heel accommodate 5/8" bolts.
How is a guy hook used?
The guy hook made up of hot-dip galvanized and constructed of high-quality steel helps the rounded oval to prevent damage to the guy strand and strands.
How to install guy hook?
The guy hook is installed with mounting style through bolt and large screw while the installation of guy hook to poles is being done through machine bolts. To avoid premature bolt failure, the guy attachments are not to be installed on the threaded end of a bolt.
How does a guy hook work?
The guy hook is used in the down, or span guy application with spurs resist down slotting while the overturning action holds out against wide lower curved heel pad. It is also feasible to use on concrete and steel poles with the capability of installed on round or flat surfaces.