5 types of industrial electrical cabinets suitable for Vietnamese infrastructure
QPC
Industrial electrical cabinets
Industrial electrical cabinets are indispensable equipment in constructions, industrial plants, from small workshops. to large factories. Each type of cabinet has its own function to suit the needs of each project, specifically:
1. Distribution industrial electrical cabinets
Distributing industrial switchboard, also known as main distribution cabinet, is manufactured according to IEC 60439 standard The electrical cabinet shell is made from galvanized steel and is powder coated. Other parts such as electrical cabinet cover, side and back side of electrical cabinet can be easily disassembled to facilitate users in installation and maintenance work.
Arrangement of equipment inside the cabinet electricity can suitable to each customer's needs from the form of cabinets electricity. The cabinet electricity is designed for indoor use to distribute power for large capacity loads with advantages the point is the modular design which is placed side by side forming a distribution electricity system includes the access pane, the partition paragraph and the distribution pane.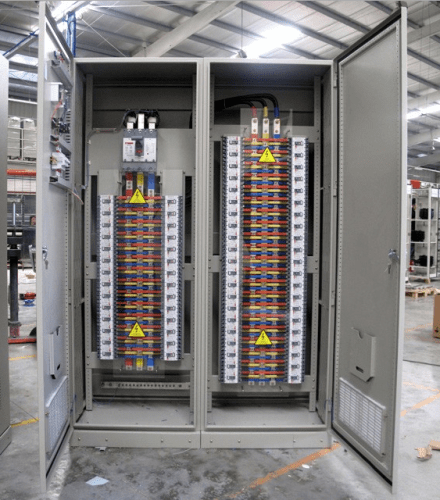 2. Central control cabinet

– equipment used inside electrical electric cabinets such as soft starters inverters, direct-drive starters star/delta starters, transformer voltage starters and devices protection, programming control and display.
– Frames and lids made from galvanized electrical steel and finished with powder electrical paint. Cabinet electrical control and protection industrial motor, irrigation…. The cabinet electricity has the following operating mechanism:
+ Operate locally or remotely to switch, reverse rotation for  motors.
+ Operate locally or remotely to change change speed rotation of motor.
3. ATS electrical cabinets (Switching cabinets)
Cabinet electricity used in places with loads required uninterruptible power supply  to supply power to load in case of failure on the mains side, commonly used as a backup source, generator electricity . In case cabinet ATS  has the task of self moving switching power supply from grid to backup source to supply resistance for active active load.
– Electricity voltage rated: 380V/415V
– Current power rated: 1600A/2000A/2500A/3200A/6300A
– Switching time: 5~10s.
Improve, enhance power factor.
Reduce power loss.
Lighten up the transformer load.
Fix the voltage drop.
Electrical equipment does not need excess rating.
No unfair power penalty.
Capacitors RTR – Spain (or Ducati – Italy, Epcos – Germany)
Start from
MCCB Hyundai/LS – Korea
RTR controller board
Busbar system
3 cup cabinet
Busbar Insulation
Headlights
Voltmeter
Ammeter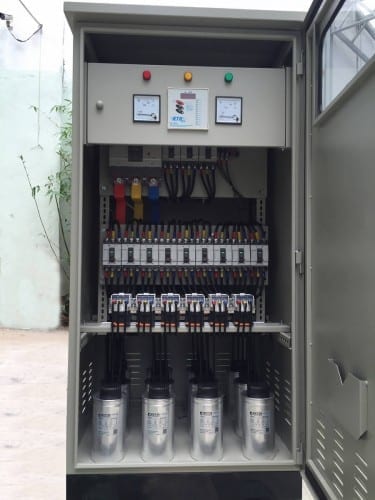 5. Pump cabinet for fire protection.
The cabinet is used to control the fire fighting water pump motor when there is a problem.
– Power  supply voltage 3P-380V
– Headlights
– Measure current electricity, electricity voltage
– Report loss of phase
– Standard IP20 – IP54
– 2mm thick corrugated board, powder coated electric
---
The company Quan Pham Industrial Electrical Equipment is a company specialized in providing:
Company Quan Pham  was born to bring to customers the best products at the most reasonable prices. With the operating motto: "Customer satisfaction is our success ".
We are committed to bringing the best   products to our customers, especially our   products are always high standard, environmentally friendly, always in line with the network's operating conditions & nbsp; electricity Vietnam.
Hotline: 0968 789 868

Hotline: 0903 790 986