Construction and assembly of factory electrical cabinets in Ho Chi Minh City
QPC
Construction and assembly of factory electrical cabinets in HCMC
1. Introduction of factory electrical cabinets
Electrical cabinets are an indispensable part of any factory. Because the electrical cabinet is a place to install and protect electrical switchgear and control equipment, and is a place to connect and distribute electricity for the project, ensuring isolation of electrical network equipment from users. use electricity during operation.

Depending on the location and purpose of use, the workshop electrical cabinet is designed in a square or rectangular shape.
Besides, shell factory electrical cabinet can be made from composite plastic or metal with different thickness depending on the needs of customers. Normally, the electrical cabinet cover is powder coated smooth or lumpy and the color can be decided by the customer to suit the design as well as the space of use.
The factory electrical cabinet is an extremely important part to protect the electrical equipment inside. Therefore, the enclosure of the electrical cabinet must meet the following standard characteristics:
Material: Powder coated black steel or stainless steel (Inox).
Height size: 200 2200 mm.
Width size: 200mm or more.
Depth dimension: 150 1000 mm.
Material Thickness: 1.0mm, 1.2mm, 1.5mm, 2.0mm.
Common color: wrinkle cream, gray, orange or the color of the material.
Types of factory electrical cabinets on the market today are:
2. Types electrical cabinets factories popular today
This line of electrical cabinets provided by Quan Pham always ensures the following specifications: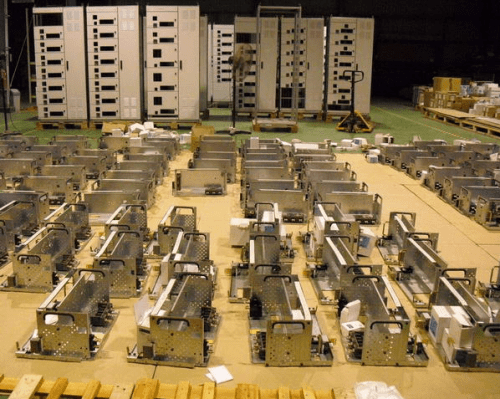 Small size but still ensures space for equipment layout and wiring mark
Electricity circuits are clearly and scientifically connected
The cabinet is made from sheet steel, powder coated, 1mm – 2mm thick with protection class IP 43 – IP 55
Applicable standard : IEC 60439-1
Rated voltage : 380/220 VAC, 50Hz
Rated load current : up to 1000A
Cutting current : 6kA to 50kA
There are many types control cabinet different based on the starting methods, control depending on the motor type and customer requirements such as: star delta start , direct start, soft start, hard start, inverter start….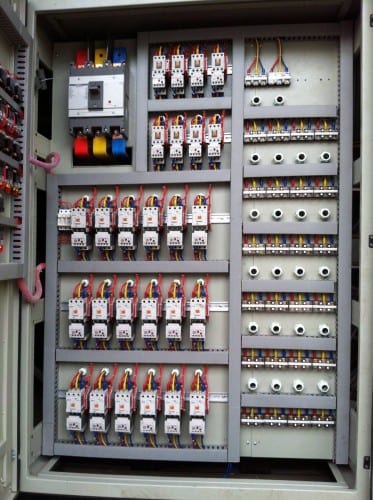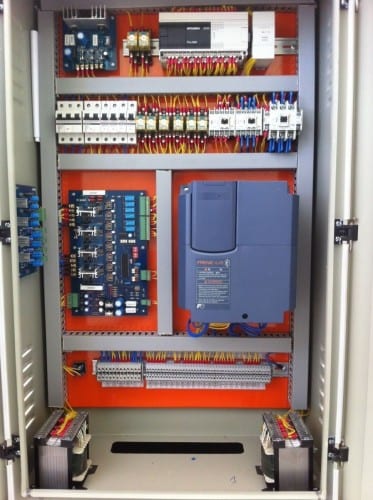 Basic Specifications:
Control cabinet must meet the standard: IEC 61439/AS 61439/NEMA/JIS
Operating voltage: Up to 1000V AC/DC
Current Level: Standard 1000A
Option: Up to IP 6300A, on request
IP Protection : IP 65, waterproof
Tolerable short circuit current : 50KA-1s, 150KA-1s on request
Electrical cabinet structure: 1.5/2.0/3.0mmT equipment mounting plate with inner bend
Transparent door : 5mmT transparent glass c/w seal
Lift type : Ease of installation
Fixed Type : Freestanding Cabinet
Material: Hot rolled steel, stainless steel S/S 304/316 upon request
Standard Finish: Powder coated, RAL 7032 or other color on request.
Capacitor effect:
Improve, enhance power factor.
Reduce power loss.
Lighten up the transformer load.
Fix the voltage drop.
Electrical equipment does not need excess rating.
No unfair power penalty.
---
The company Quan Pham Industrial Electrical Equipment is a company specialized in providing:


RTR capacitors – made in Spain
Welding cable, rubber cable SAMWON – made at Korea
DUSONC control cable – made in Korea
Industrial socket BEKONEC – Made in Italy
Start from Hancess – made in Korea
MCB, ATB Hancess – made in Korea
Timer Shinsung – made in Korea
Professional construction and installation of electrical cabinets for factories
Construction and assembly service of Quan Pham factory electrical cabinets was born to bring customers the best products at the most reasonable prices. . With the operating motto: "Customer satisfaction is our success ".
We are committed to bringing the best products to our customers, especially our products are always high standard, environmentally friendly, always in line with the network's operating conditions & nbsp; electricity Vietnam.
Hotline: 0968 789 868

Hotline: 0903 790 986