IPC branch clamp features and benefits
QPC
IPC clamp – Insulation sheath connection

1. Usage:
+ Application to connect from main wire – to – main wire, main wire – to – auxiliary wire, connection cover
+ Width range: main cord from 4-380 mm², auxiliary cord (branch) from 1.5-380 mm2.
+ Pairing of Al(Cu) to Al(Cu), or Cu(Al) to Al(Cu).
2. IPC clamp features and benefits:
+ Easy to install, no need to remove the outer cable layer
+ Solid connection, no damage to wires
+ control the torque of the head to the bolt
+ Waterproof, resistant to weather changes, anti-corrosion
+ Operating temperature: -50oC to + 50oC
+ Installation temperature: -20 oC to 50 oC
3. Customers can refer to some products IPC clamp according to their needs request below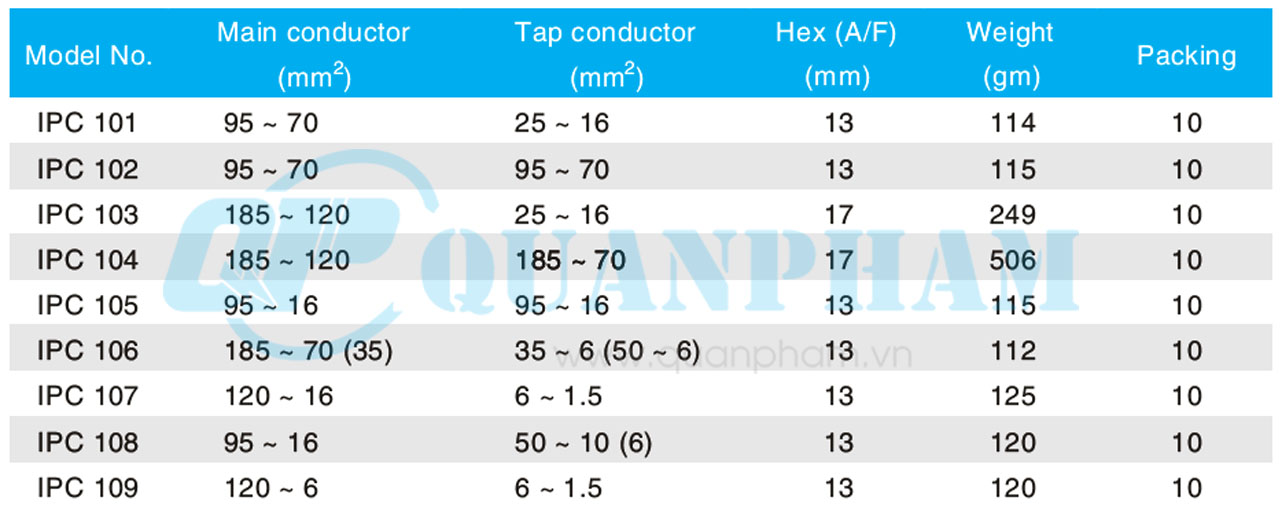 Hotline: 0968 789 868

Hotline: 0903 790 986
Outside Also, customers can refer to the list: Power grid accessories, Low voltage grid accessories supplied by us with Best quality and price in the market.
---
The company Quan Pham Industrial Electrical Equipment is a company specialized in providing:
RTR capacitors – made in Spain
Welding cable, rubber cable SAMWON – made in Korea
DUSONC control cable – made in Korea
Industrial socket BEKONEC – Made in Italy
Started from Hancess – made in Korea
MCB, ATB Hancess – made in Korea
Timer Shinsung – made in Korea
Company Quan Pham was born to bring to customers the best products at the most reasonable prices. With the operating motto: "Customer satisfaction is our success".
We are committed to bringing the best products to our customers, especially our products are always high standard, environmentally friendly, always suitable for the operating conditions of the power network Vietnam.